ELEPHONE U 4G Phablet MKT 6763 6GB RAM 128GB ROM - Black only $169.99
Take for instance your travelling on smooth highways,then get tempted by a dusty turn-off signed Adventure.then that turn off the highway is Iran.looking at it's magnificent mountain vistas, majestic ancient ruins,beautiful mosques,with the lovely cafes all around couples with hospitable people.it is a destination that every traveller should mark on his or her bucket list.Is little know to most of the world,is one of the safest place in the middle East and it dose not associate with the problems that go on in the neighbouring Iraq and Afghanistan.an it is also known as the jewel in the Islam's crown,it has a wonderful architecture with a warm-hearted welcoming people.Natural lovers could lose themselves to the long hiking past plunging waterfalls,in the company of hills and tiny villages,or trying their luck on the ski trails in shemshak.The most interesting thing about Iran is that nobody bothers to take this turn-off- meaning so you will likely have the country to your self.welcome to Iran!
little About Iran
Is located in the Asian continent,bordered byAfghanistan,Armenia,Azerbaijan,Iraq,Pakistan,Turkmenistan and Turkey,
With a population of approximately 80.28 million people.Iran was meant to be one of the world must treasured travel destinations,but with the past tough domestic regime that happens a few years back creates an international tension.However,is a good thing to know that things have changed and the Iranians are always ready to welcome it's visitors.
It's Cultural dynamism
Iran is a bustling microcosm peacefully country sharing it's cultures to all corners of the world.This diversity expresses itself in the culinary landscape,fashion,music and performance.but the facts is that is rooted in Islamic tradition,but in this new world is easy for newcomers and visitors to connect with myriad experience: from eating like a local to imbibing a little shisha culture,shopping for local art or riding a camel in the desert.it's a fertile environment conducive to breaking down cultural barriers and preconceptions.
Sence of the past
Steeped in myth,coveted by every conqueror with an eye for a prize,Iran tumultuous and multilayered past has left ancient riches strewn across this country.some of the history's biggest name-Cyrus and Darius,Alexander the Great,Genghis khan- all That left their mark here in this cities that they conquered or over which they ruled are among the finest in a region rich with such storied ruins.while strolling this cities you can spot the preserved architectural beauty of the Persepolis.Iran have welcome you to flop out on the beach,but dip into the past here and you'll unearth the entire history of the ancient Persia.
THE Outdoor Adventures
Iran is the first and foremost an outdoor destination.the local peoepl favour active holidays,and you'all be invited-even expected-to join them.the list of activities that this place can offer is quite endless,with most popular pursuits skiing,diving and hiking in the mountains,and increasingly,cycling.Plus don't forget to take a trip to Persepolis,where you will be offered an array of magnificent architectural beauty,and there are sample chances to try out more niche activities like horseback riding,balloning,caving and canyininv.for the adrenaline Junkies,hit the ski trails of 3,550 meters high at shemshak or take cable ride to the top of the sofe mountain or you can opt to spend the night beneath the stars in varzaneh desert.this is truly a one lifetime experience.
More Adventures…
Whether your going slow or fast,choose coast or country,Iran is one of middle East best place of adventures.Hike through the lush,silent interior to the twilight of Tadven cave.walk the Nature bridge as the sun goes down or feel like royalty in the lavish Golestan palace.Don't forget to join the quest of crossing the Esfan bridge or go undercover at the US den of Espionage,Where diplomats were once held hostage for over a year as depicted in the movie Argo.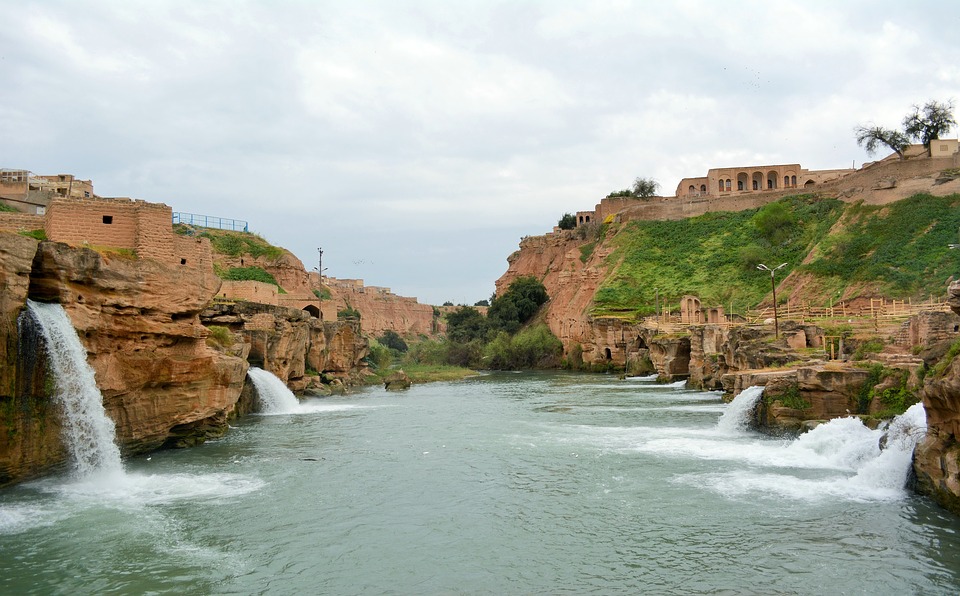 History buffs can opt to visit the stunning traditional houses in Kashan or explore the alleyways in the old town while you stroll, snack and chat with the friendly locals on the go. If all this sounds a bit much, you can always decamp to the coast of Qeshm Island where you have an opportunity to get close to virgin coral and marine life. It is so divine, you might just forget to leave.Qesham Island coast
The two on-missable destination
Iran should be on everybody's travel list-it may not have many big-ticket attractions,but the warmth of it's welcome and the friendliness of the people of Iran  are virtually same in all the cities.Tell me if there is anyplace the world where you can find friendly locals that are ready to invite you to share a meal.
Tehran:
Tehran is Iran's most secular and the capital city of Iran.spend some time here- as you should and you will realise that the city is so much more that what they say it is.Exploring the intriguing city will transport you on a journey through more than 250years of Iranians history-from the adjacent Grand Bazaar and beautiful Azadi tower to the contemporary cafes,beautiful mosques,traditional teahouses and on the hiking trails in the mountains,you can relax and enjoy all that's good about Tehran.
Yazd:
Before you book your tickets, a word of warning: once in Yazd, there is a very good chance you won't ever want to leave.  It is by far Iran's most picturesque city that warrants a lazy approach to the country. From rambling around the piles of historic lanes to popping into random teahouses, it is entirely a different world from the bustle of Tehran. For a mindblowing experience, rent a 4WD and explore the wilds or take a stroll through the lush forest. Wherever your interests lie, you'll find it hard not to leave utterly captivated.
Find cheap flights to Iranhere
Shopping Haven
If you are a fashionista looking for the next trendy wear, shopping in Iran is perfect for you. Shop 'til you drop at an affordable price!  Some of the stores look like an Italian palazzo or a Persian palace and it keeps luring visitors with lovely wares. Bater with a smile for the best Persian rugs in the world while you take the Iranian tea in a local style or visit the other Bazaars for spices, hennas, natural perfumes and jewellery. The traditional souqs, too, are beehives of activity humming with timeless bargaining banter. Iran is bound to give you a 360-degree overview of shopping possibilities.
A Culinary Feast
Chelo Kebabs is a delicious way to acquaint yourself with the local cuisine. Tantalise your taste buds with a feast of small dishes ranging from the creamy yoghurt to kebabs and Kofta(minced meat formed into meatballs) to everything in between. The food is heavily influenced by Persian and Middle Eastern food cultures. Don't forget to try the homemade yoghurts with mineral water or delicious coffee in one of the cosy cafes. Iran is definitely a gastronomy destination!
Entry Requirement
Nigerians can get a visa on arrival for 30days
Best time to visit
Iran is a year-round destination. The climate is warm throughout the year which makes it the perfect holiday escape.
Getting there
The easiest way to get to Iran is by flying. However, note there might be stops, depending on the airline you are travelling with.  The airport code is IKA. Book with Travelstart now.
Duration: 7 hours, 15 minutes(non stops)
nature bridge|photo credit: pinterest
Are you ready to leave behind the hustle of daily life and get lost in your own quest for adventure? Start preparing now and take the turnoff on the dusty road yourself! Book for a cheap flight on Travelstart, pack your bags and discover a new world of your own.